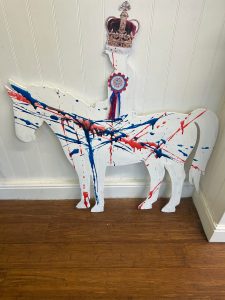 Best Dressed Silhouette Horse This was a competition we started last year and its proving to be very popular! Each year we send out wooden horse silhouettes to schools and community groups for them to decorate. We then put photos of these on our Facebook page for people to vote for their favourite. This years…
Saturday 25th November - Christmas Shopping Day 10am-4.00pm, Guildhall, Berwick.
Saturday 16th March 2024 - Sashing Event.
Could you be the next Chief Marshal? 
Berwick Riders Association are looking for a new Principal to join our team for 2024. This is a 3-year post, with our new principal coming into the right-hand position. The 'Riding of the Bounds' is a long-standing annual tradition, started by the Garrison and dating back over 400 years. Our ride attracts around 100 riders and thousands of spectators every year.
Our new principal must reside in Berwick or within the borough of the town. You must also be a confident and experienced rider. The ideal candidate must be passionate about Berwick and its history, and we are looking for someone who will work hard to promote the ride and our town including visiting schools to teach the young ones about our traditions, help organise and attend fund raising events and to be able to commit to the whole 3 years with a passion.
As a principal you will be expected to ride in some of the local border town main rides to support their principals whilst representing our town.
This post is an honourable one and a high standard of behaviour is expected. You will be at the centre of the oldest tradition the town has, will make life-long friends throughout the Borders and have wonderful memories of your time in office. Applicants must be over 18 and will be expected to take part in the social events connected with the rides, visit the border towns to take part in their rides and celebrations, attend all local events and be in attendance at all formal functions in the town in your capacity as a Principal.
You don't need to own your own horse as you can hire for the rides.
Principals will be expected to incur some expense of their own however some financial help may be available.
This role is a once in a lifetime, never to be forgotten experience that requires passion, commitment, and lots of hard work.
Still interested? Send us an email to berwickbounds@yahoo.co.uk before 30th November 2023 and we will send you a copy of our principal's handbook which gives lots more information. If you have any questions prior to applying, please write to the same address or contact a committee member.
Berwick Bounds 2023
And as quick as that it's over for another year! We would like to say a massive thank you to everyone who took part in this years ride. Although the weather was a bit iffy at times and it was incredibly cold, 67 horses and riders braved the cold to follow the Chief Marshal and his Principals on their big day and a great ride was had by all!
Sadly this year we couldn't have our now infamous river crossing. After spending a couple of hours on the Friday wading about in the river, head scratching and trying and failing to find a safe crossing point it was decided to cancel it for this year. The safety of our horses and riders is paramount and although there were a few disappointed faces there were some very relieved ones too! No idea why 🙂
We would like to say a massive thank you to everyone who came out to help and support us on ride day but a huge thanks must go to the following people...
All of our Landowners who kindly let us cross their land so we can carry on this tradition
Rapid Reaction for excellent first aid for our humans..
Galedin Vets for supplying us with FREE veterinary care from vet Michael Morrison. Its a real comfort to know that a vet is following the cavalcade to look after our equine friends.
Sunbelt Rentals for Road Closures
Berwick Town Council and the Freemen for help with funding
All of our ridden and foot marshals, without you guys we would really struggle!
Berwick pipe Band
Chain Bridge Honey Farm for providing the 'Big Red Bus' and to air cadets for providing their minibus.
Frank Gibson ATV centre and Wattie Aitken Farming for Donating us Quad Bikes to use on the day.
Ancroft Tractors for forklift and driver to help put up and take down our street bunting.
And to everyone else who donates their time, services and support, Thank You!NEW COMMITTEE MEMBERS NEEDED
Berwick Riders Association are the group responsible for organising the annual Riding of the Bounds on bank holiday weekend closest to the 1st May every year.
We are looking for mature, enthusiastic and committed individuals, 18 years and over, to sit on the committee and help us make the event even more of a success than it currently is.  No special skills are needed, you don't even need to be a rider, just as long as you are willing to give a bit of your time to show off one of the town's best assets and make Berwick proud of its historic tradition.
Applications of interest are also invited from anyone who would like to become a Principal (18 years and over) or a Mascot (15 years and under on May 1st) and represent the town at various Common Ridings during the season.
Please contact the Secretary or any committee member for informal advice on joining us.
---
We are a non-profit organisation consisting of riders, and non riders whose aim is to enhance this historic event to the whole community and continue to raise the profile of the Riding of the Bounds. We are the sole organisers of this very unique day.
We as the Berwick Riders Association are always actively looking for new members to join our committee.  We rely on Sponsors, Friends and Supporters. So if you can support us in any way, no matter how small please do get in touch.
Fundraising is the most important thing we do, so please do attend our events.  Come along to any of our meetings, we usually hold them on the first Tuesday of the month at @ 7.30pm. Venues can vary so if you would like to come along drop us a message and we can let you know where the venue will be.
Regular updates can be found on our Facebook page 'Berwick Riders Association'
We are always actively seeking new members and future Chief Marshals for our committee who have a passion for our town and historical ride. if you think you have what it takes to become a Chief Marshal then send us a message through the contact form or email us at berwickbounds@yahoo.co.uk 
If you think this is something that you may be interested in please contact us by CLICKING HERE
---
Could you be the next Chief Marshal??

PHOTOGRAPH COURTESY OF DAVID GUTHRIE -CASTRUM PHOTOGRAPHY.
Berwick upon Tweed Riding of the Bounds - Hosted by Berwick Riders Association