*** New principals wanted ***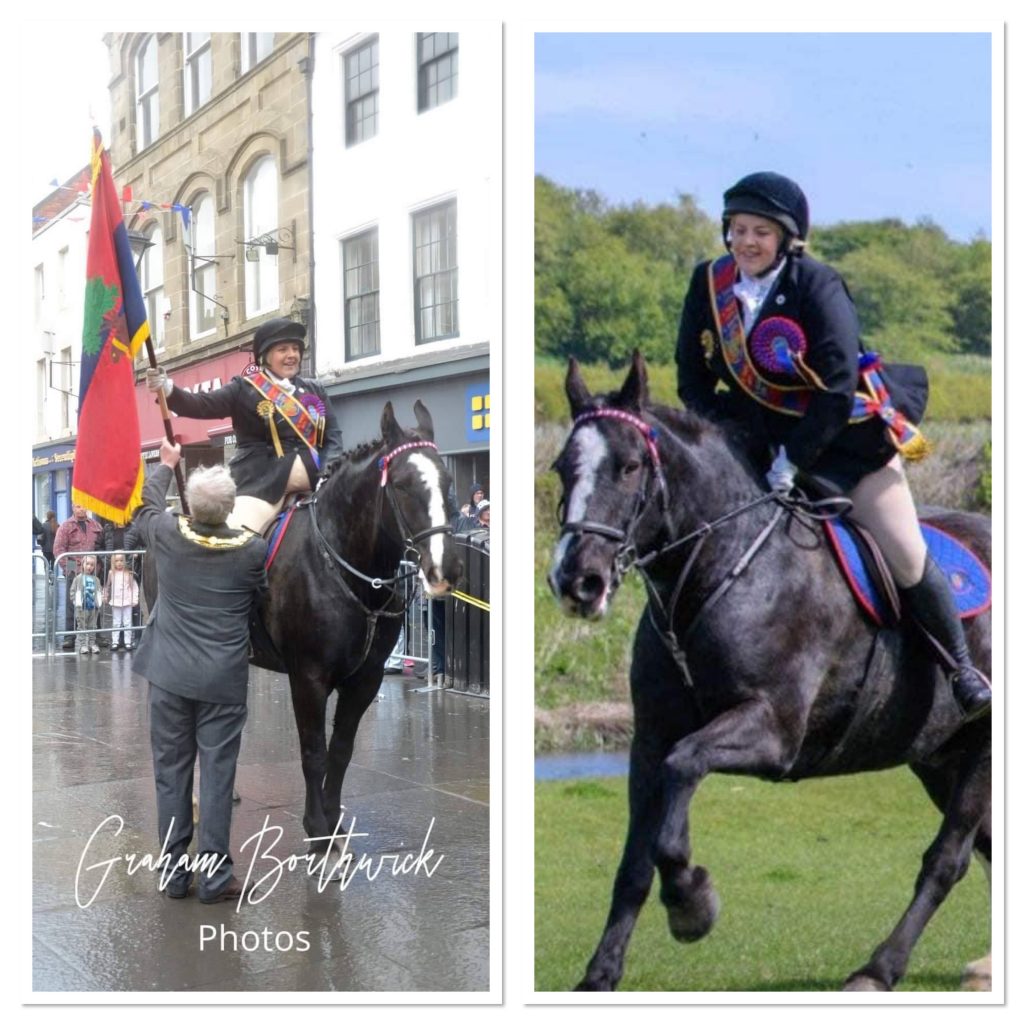 Ever watched or ridden in a Common Riding, seen all those smart riders at the front with their sashes and on their beautifully turned out horses and thought "I can do that!"  Well, here's your chance! Berwick Riders' Association are looking for a new Principal for 2022 and beyond to represent the town at various rides throughout the summer.  
You will be taking an important role at the Riding of the Bounds over the 17-mile route around the ancient Liberties of Berwick
on 30th April
.  There we expect to have more than 100 riders from all over the Borders and beyond taking part in our ride, so you must be a confident and experienced rider.  It's a 3-year commitment; in your first year you will be the Right Hand Principal, the apprentice, who will be watching and learning from the current Chief Marshal.  The year after that will be your year as Chief Marshal and in the last year you will be the Left Hand Principal, the old hand, who will guide the other two Principals.  You will be assisted throughout by the Chief Marshal and our dedicated committee and will have your own copy of the Principal's Handbook as a useful guide.
You will be invited to many other Border towns to take part in their rides and will be near the front in the centre of all the colour and noise and excitement of the day.  You will even be invited to race at Kelso Racecourse in your Chief Marshal year against other town Principals when the Common Riding season has finished.
The ideal candidate must be passionate about Berwick and its history and who will promote the ride and town throughout the Borders.  You will have to work hard and show a lot of commitment and support your fellow Principals at all times. The post is an honourable one and a high standard of behaviour is expected. You will be at the centre of the oldest tradition the town has, will make life-long friends throughout the Borders and have wonderful memories of your time in office.
Applicants must be over 18 and will be expected to take part in the social events connected with the rides. The ability to sing in tune is a definite asset!  You don't need to own your own horse as one can be hired for certain rides and a few riding lessons will be provided if you feel your skills need polishing.  Some financial support is available throughout your 3-year tenure although Principals will be expected to incur some expense of their own. You must be able to demonstrate a definite link with Berwick-upon-Tweed and district.
Still interested?  Send us an email to
berwickbounds@yahoo.co.uk
before 30th November 2021
, telling our committee about yourself and if you fit the bill, we'll invite you to an informal meeting where you will speak in front of the group before a final decision is made.
The successful applicant will be Sashed at the Guildhall
on 26th March 2022
in front of their family and friends and invited dignitaries.
If you have any questions prior to applying, please write to the same address or contact a committee member.
Good Luck!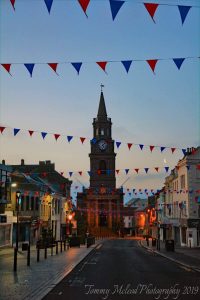 NEW COMMITTEE MEMBERS NEEDED
Berwick Riders' Association are the group responsible for organising the annual Riding of the Bounds on or about the 1st May every year.
The ride is becoming increasingly popular and is gaining a high public profile.  The first ride was recorded in 1438 so it won't be too long before we'll be celebrating our 600th anniversary.
We are looking for mature, enthusiastic and committed individuals, 18 years and over, to sit on the committee and help us make the event even more of a success than it currently is.  No special skills are needed, you don't even need to be a rider, just as long as you are willing to give a bit of your time to show off one of the town's best assets and make Berwick proud of its historic tradition.
Applications of interest are also invited from anyone who would like to become a Principal (18 years and over) or a Mascot (15 years and under on May 1st) and represent the town at various Common Ridings during the season.
Please contact the Secretary or any committee member for informal advice on joining us.
---
---

"Berwick Riders' Association committee celebrated their annual Riding of the Bounds on 1st May this year by walking the 17 mile route instead of the usual means of travelling on horseback.
Covid restrictions meant that the 500-year-old tradition had to be reduced to avoid large crowds so on Saturday morning the Chief Marshal Courtnay Grey and her Left and Right Hand Men, all of whom were on foot, met the Berwick Mayor Ann Forbes and Sheriff Martin Warner, at the Guildhall steps and requested permission to check the boundary of the Liberties of Berwick. Permission was granted, the Town Flag was handed over and the toast was given before the ten-strong committee set off by foot and bus to cover the route.  The committee were joined on the walk by Shaun Eltringham, who was celebrating his ten year anniversary of being Chief Marshal.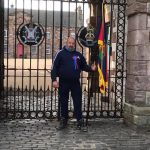 The walk was completed without difficulty in lovely Spring sunshine and following a very pleasant lunch stop hosted by New Mills and the "Tapping of the Bridge" near New Water Haugh, the flag was returned to the Mayor at the Guildhall along with the report that the town boundary remained secure for another year.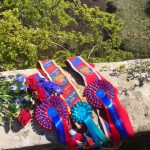 It is hoped that 2022 will see the return of the hundred plus horses and riders from Berwick district and the other Border towns. The committee are also looking for new applicants for next year's Principals positions. Details are on their website and Facebook pages."


ANNUAL GENERAL MEETING 2020.
Due to further Covid restrictions placed upon us all our Annual general meeting due to take place at the Jubilee was held instead via Zoom.
Berwick Riders Association post holders are as follows..
Chairman – Mrs  Linda Fiddes
Vice Chair – Mrs Lorraine Stark
Treasurer – Mrs Rebecca Tait
Secretary – Mr Stephen Lowdon
Ride Liaison Officer – Mrs Lorraine Stark
---
We are a non-profit organisation consisting of riders, and non riders whose aim is to enhance this historic event to the whole community and continue to raise the profile of the Riding of the Bounds. We are the sole organisers of this very unique day.
We as the Berwick Riders Association are always actively looking for new members to join our committee.  We rely on Sponsors, Friends and Supporters. So if you can support us in any way, no matter how small please do get in touch.
Fundraising is the most important thing we do, so please do attend our events.  Come along to any of our meetings, we usually hold them on the first Tuesday of the month at The Pilot Inn, Berwick @ 7.30pm.
Regular updates can be found on our Facebook page 'Berwick Riders Association'
we are always actively seeking new members and future Chief Marshals for our committee who have a passion for our town and historical ride. if you think you have what it takes to become a Chief Marshal then send us a message through the contact form or email us at berwickbounds@yahoo.co.uk 
If you think this is something that you may be interested in please contact us by CLICKING HERE
Could you be the next Chief Marshal??

PHOTOGRAPH COURTESY OF DAVID GUTHRIE -CASTRUM PHOTOGRAPHY.

Berwick upon Tweed Riding of the Bounds – Hosted by Berwick Riders Association