The Riding of the Bounds 2022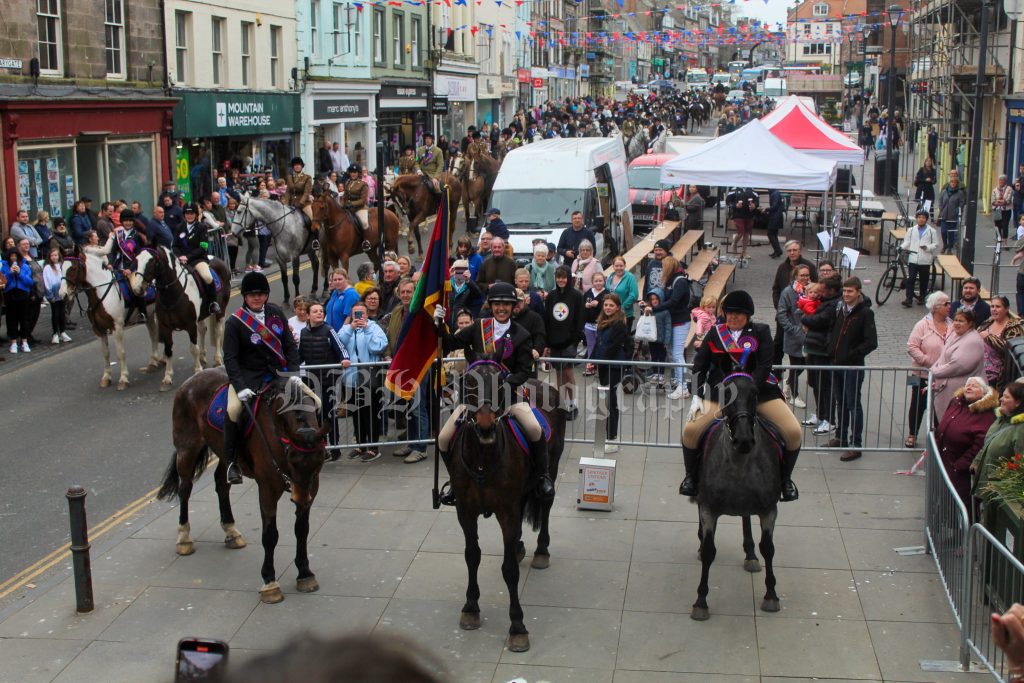 WOW! Well Berwick's Riding of the Bounds 2022 is complete and what a day it was! The sun shone, the crowds were out in spectacular style and our town looked fantastic. We had 94 horses on the ride and hundreds of followers on the buses and in cars. The Berwick Riders Association would like to thank everyone who came out to help and support us to uphold this long standing tradition after a two year enforced break. Our 2022 Chief Marshal Julia done a spectacular job requesting permission and leading the cavalcade and we are incredibly proud of her. Right hand man Kieran Dodds and left hand man Courtnay Grey were by her side and as we knew they would, gave 100% to their roles as always. Our mascot Merci Duffy! You are an absolute star and a bit of a celebrity now I think! and we are incredibly proud of you. Our lead marshal Lorraine Stark, you have worked tirelessly and because of your relentless determination and dedication to your role, I think it safe to say everyone had a brilliant ride. To every town principal who came along on the day either riding or following, your support means the world to us. Our small committee has worked their socks off this year to make this the best day ever. They have spent many many hours giving school presentations and running competitions to involve as many children in the town as possible and to get the message across that this event is for everyone and not only riders. Our thanks go to everyone who has made this happen. To Michael Morrison at Galedin vets who gave up his day, free of charge to ensure all our beautiful horses were safe and happy, to Rapid Reaction for keeping our riders safe out there, to all of our ridden marshals and ground marshals and our landowners, to Euan Gibson and Wattie Aitken for lending us the quads , we can't do this without all you guys so thank you all so much. Mr and Mrs Robson at the honey farm for the use of their gorgeous red bus. To Tracy and Alison for feeding the troops in the morning ( our behind the scenes heroes) To all the shops who have sponsored and donated things to us for our hobby horse event and our ride day. The support from our local businesses and larger stores has been incredibly this year so remember everyone! shop local, they have supported us so we need to support them. There are far too many people to thank individually so we would just like to say a huge thank you to every single person who has helped along the way to make this event the success it is. We are now looking forward to supporting all the other towns during their own celebrations throughout the summer and the planning of Riding of the Bounds 2023 is underway! Hip hip.
More photos will be added to the gallery shortly…..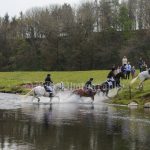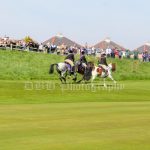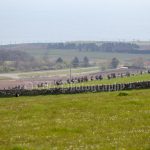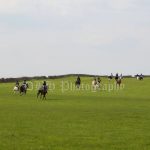 ---
---
---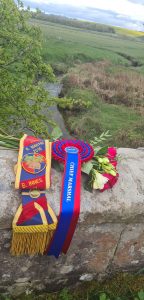 Sunday 1st May 2022
The annual "tapping of the bridge" took place on Sunday 1st May by our three principals!
This previously took place on May the 1st by a select few riders while the rest of the cavalcade had a well deserved break at half way.
The principals still honour this tradition however it is now completed on foot by our principals while their horses have a well earned rest
---
Hobby Horse 2022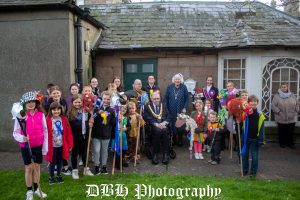 Well what can we say last night was brilliant! The turn out was amazing! Well done to all that took part!A huge thankyou to Jake Dodds, Alisha Dodds and Marcus Dodds who piped us round the walls they where absolutely fantastic! Thankyou to Gemma Dodds for bringing Amelia the kids loved meeting her! A huge thankyou to Greggs Alnwick for the massive food donation, there where some very happy children after there walk! A huge thankyou to B and M Berwick for providing us with brushes for the hobby horse work shop! And of course a huge thankyou to everyone that attended both events each year these events are getting bigger and better and that is down to the support of you!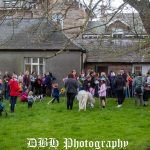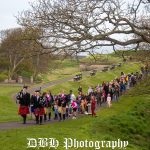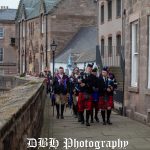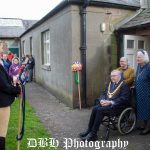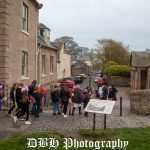 ---
---
---
WINDOW DRESSING COMPETITION
Results are in!
This year's winner is….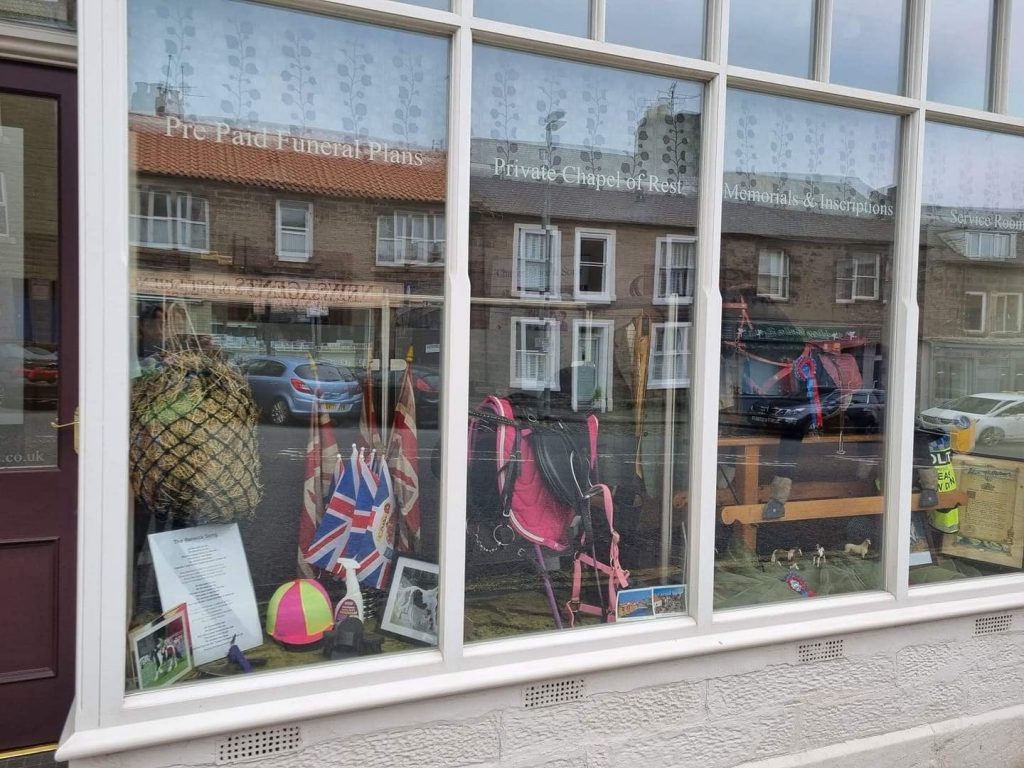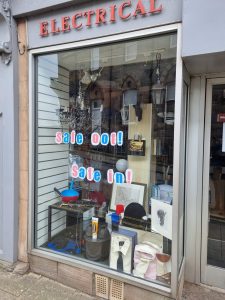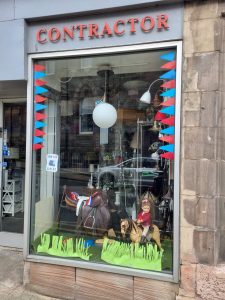 Please see the news section for more information and pictures!!

New Principals Installed…
On Saturday 26th March we held our sashing event where our new Principals for this year were installed.
Chief Marshal – Julia Szoneberg
Right Hand Man – Kieran Dodds
Left Hand Man – Courtnay Grey
See the news section for more information… 
---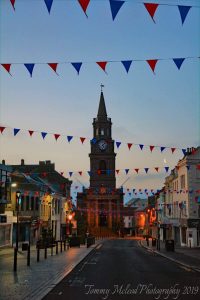 NEW COMMITTEE MEMBERS NEEDED
Berwick Riders' Association are the group responsible for organising the annual Riding of the Bounds on or about the 1st May every year.
The ride is becoming increasingly popular and is gaining a high public profile.  The first ride was recorded in 1438 so it won't be too long before we'll be celebrating our 600th anniversary.
We are looking for mature, enthusiastic and committed individuals, 18 years and over, to sit on the committee and help us make the event even more of a success than it currently is.  No special skills are needed, you don't even need to be a rider, just as long as you are willing to give a bit of your time to show off one of the town's best assets and make Berwick proud of its historic tradition.
Applications of interest are also invited from anyone who would like to become a Principal (18 years and over) or a Mascot (15 years and under on May 1st) and represent the town at various Common Ridings during the season.
Please contact the Secretary or any committee member for informal advice on joining us.
---
---

"Berwick Riders' Association committee celebrated their annual Riding of the Bounds on 1st May this year by walking the 17 mile route instead of the usual means of travelling on horseback.
Covid restrictions meant that the 500-year-old tradition had to be reduced to avoid large crowds so on Saturday morning the Chief Marshal Courtnay Grey and her Left and Right Hand Men, all of whom were on foot, met the Berwick Mayor Ann Forbes and Sheriff Martin Warner, at the Guildhall steps and requested permission to check the boundary of the Liberties of Berwick. Permission was granted, the Town Flag was handed over and the toast was given before the ten-strong committee set off by foot and bus to cover the route.  The committee were joined on the walk by Shaun Eltringham, who was celebrating his ten year anniversary of being Chief Marshal.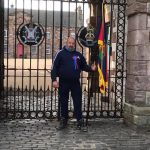 The walk was completed without difficulty in lovely Spring sunshine and following a very pleasant lunch stop hosted by New Mills and the "Tapping of the Bridge" near New Water Haugh, the flag was returned to the Mayor at the Guildhall along with the report that the town boundary remained secure for another year.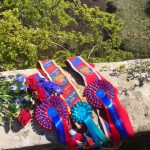 It is hoped that 2022 will see the return of the hundred plus horses and riders from Berwick district and the other Border towns. The committee are also looking for new applicants for next year's Principals positions. Details are on their website and Facebook pages."


ANNUAL GENERAL MEETING 2021.
Due to further Covid restrictions placed upon us all our Annual general meeting due to take place at the Jubilee was held instead via Zoom.
Berwick Riders Association post holders are as follows..
Chairman – Mrs  Linda Fiddes
Vice Chair – Mrs Lorraine Stark
Treasurer – Mrs Rebecca Tait
Secretary – Mr Stephen Lowdon
Ride Liaison Officer – Mrs Lorraine Stark
---
We are a non-profit organisation consisting of riders, and non riders whose aim is to enhance this historic event to the whole community and continue to raise the profile of the Riding of the Bounds. We are the sole organisers of this very unique day.
We as the Berwick Riders Association are always actively looking for new members to join our committee.  We rely on Sponsors, Friends and Supporters. So if you can support us in any way, no matter how small please do get in touch.
Fundraising is the most important thing we do, so please do attend our events.  Come along to any of our meetings, we usually hold them on the first Tuesday of the month at The Pilot Inn, Berwick @ 7.30pm.
Regular updates can be found on our Facebook page 'Berwick Riders Association'
we are always actively seeking new members and future Chief Marshals for our committee who have a passion for our town and historical ride. if you think you have what it takes to become a Chief Marshal then send us a message through the contact form or email us at berwickbounds@yahoo.co.uk 
If you think this is something that you may be interested in please contact us by CLICKING HERE
Could you be the next Chief Marshal??

PHOTOGRAPH COURTESY OF DAVID GUTHRIE -CASTRUM PHOTOGRAPHY.

Berwick upon Tweed Riding of the Bounds – Hosted by Berwick Riders Association