Riding of the bounds 2018
by
Riding of the Bounds 2018

Well that's it over for another year! What an amazing day!! We could not have asked for better weather although a little hot and with no rain for a while the ground was very hard!
A cavalcade of 85 horses took part this year! A very well done to our Chief Marshal Rebecca Allan and her principals Bethany Innes and Courtnay Grey. I think you will all agree they did a fantastic job!
We would like to thank everyone who took part, foot marshals and ridden marshals, the landowners who allow us to cross their land, Rapid Reaction who provided our first aid cover, the Police, the Council, the quad men, front and back car support and all of our sponsors and friends! and anyone else we may have missed! The ride would not be possible without all these people.
Thank you all again! 
?
?
***Next years ride – SATURDAY 4th MAY 2019***
PRIZEWINNERS 2018 
BEST TURNED OUT JUNIOR – REBECCA ADELSON
BEST TURNED OUT SENIOR – CAITLIN RIDDELL
BEST TURNED OUT PRINCIPAL – BETHANY INNES
OLDEST RIDER – LES TURNBULL
YOUNGEST RIDER – NINA LOWDEN-KING
BEST DRESSED SHOP WINDOW – VINTAGE UPON TWEED
PAM EDNEY TROPHY – BETHANY INNES
WELL DONE!
---
Window Dressing Competition 2018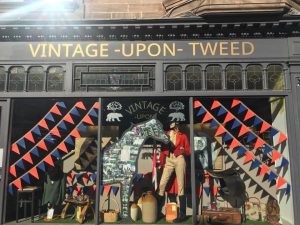 Vintage upon Tweed – Winner 2018!!
Congratulations to Vintage upon Tweed, well deserved winners of our window dressing competition with their colourful red and blue horse theme window design! They will be presented with their trophy and the after ride lunch on Saturday!
Also well done to Fantoosh Tea Room who received 2nd place for their display and our 3rd place went to Charles Mace and Sons!
A Big thank you to everyone who took part! It's lovely to see so many of you supporting our ride!
Berwick is looking very colourful!