Sashing of the Chief Marshal 2018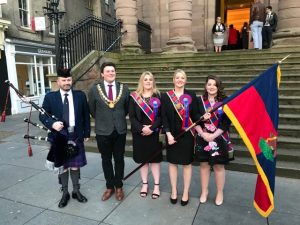 On Saturday 24th March we held our Sashing event.
Our 2017 Chief Marshal Bethany Innes was piped to the Guildhall where she returned the Berwick Flag back to the Mayor. All principals were de-sashed and we sadly had to say good bye to our Left hand man Rachel Martin. Her time as a principal is over and she can have an easy summer this year.
Bethany has now become our Left hand man. her job this year is to assist the Chief Marshal and show the right hand man the ropes!
Our Chief Marshal for 2018 is Rebecca Allan. She had a great first year and she has an even busier year this year!
She was presented with the Berwick flag after a short ceremony on the steps, then piped into the Guildhall.
Our new principal this year is our Right hand man Courtnay Grey. We hope she will enjoy her 3 years in office!
During the evening our increasing popular Mascot position was chosen, all applicants names were put into a hat and one picked by our 2017 Mascot Talia Watson.
Our 2018 Berwick Mascot is Kieran Dodds.
An enjoyable evening was had by all and the iconic horsey hopper races were highly amusing!
Just hope they are all better at riding real horses than they are toy ones!!