SATURDAY 1ST MAY 2021
"Berwick Riders' Association committee celebrated their annual Riding of the Bounds on 1st May this year by walking the 17 mile route instead of the usual means of travelling on horseback.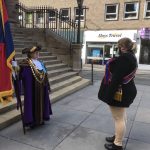 Covid restrictions meant that the 500-year-old tradition had to be reduced to avoid large crowds so on Saturday morning the Chief Marshal Courtnay Grey and her Left and Right Hand Men, all of whom were on foot, met the Berwick Mayor Ann Forbes and Sheriff Martin Warner, at the Guildhall steps and requested permission to check the boundary of the Liberties of Berwick. Permission was granted, the Town Flag was handed over and the toast was given before the ten-strong committee set off by foot and bus to cover the route.  The committee were joined on the walk by Shaun Eltringham, who was celebrating his ten year anniversary of being Chief Marshal.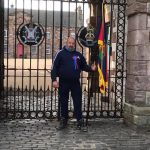 The walk was completed without difficulty in lovely Spring sunshine and following a very pleasant lunch stop hosted by New Mills and the "Tapping of the Bridge" near New Water Haugh, the flag was returned to the Mayor at the Guildhall along with the report that the town boundary remained secure for another year.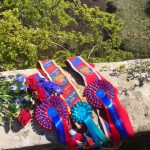 It is hoped that 2022 will see the return of the hundred plus horses and riders from Berwick district and the other Border towns. The committee are also looking for new applicants for next year's Principals positions. Details are on their website and Facebook pages.
ANNUAL GENERAL MEETING 2020.
Due to further Covid restrictions placed upon us all our Annual general meeting due to take place at the Jubilee was held instead via Zoom.
Berwick Riders Association post holders are as follows..
Chairman – Mrs  Linda Fiddes
Vice Chair – Mrs Lorraine Stark
Treasurer – Mrs Rebecca Tait
Secretary – Mr Stephen Lowdon
Ride Liaison Officer – Mrs Lorraine Stark
---
May 1st 2019
Our 3 principals carried out the old tradition of the ' tapping of the bridge'. This is usually done on ride day with a select group of riders. This year due to a safety issues with the crumbling bridge we decided not to take horses and to go on foot instead on the original ride date of the 1st May. A fitting tribute to Berwick's history, some flowers were laid along with the town sashes.
Thursday 2nd May
Thursday saw our annual Hobby Horse event.
A walk around the walls of Berwick for children with their homemade hobby horses. A mini bounds 'ride'! Prizes were given for best turned out horses and a good time was had by all despite the awful weather!

Route improvements 
Work has been ongoing for the last couple of months to improve our route and get us off some of the busy roads. Unfortunately attempts at finding an alternative to the A1 have been unsuccessful. After a lot of hard work, money, gates and diggers we have managed to bypass some of the roadwork slightly. This has given us a new river crossing and an extra field! Weather permitting obviously, too much rain will heighten the river and we would need a boat! But we have a plan B! We have also this year taken out the busy Paxton road back into town and instead will cross cantys bridge and head off-road to Baldersbury where we can use a quieter road back into town.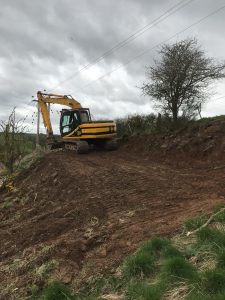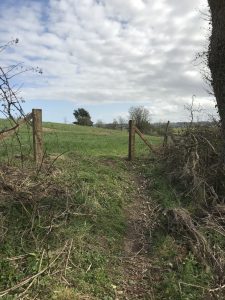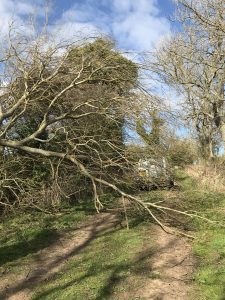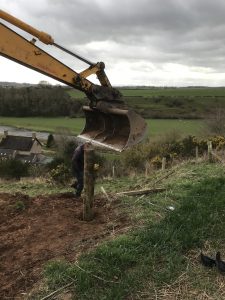 The Sashing of the Chief Marshal 2019.
Saturday 23rd March 2019 saw the sashing of our principals.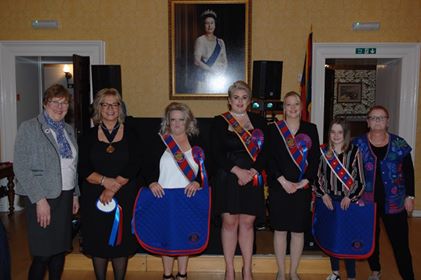 Last years Chief Marshal Rebecca Allan had to hand back the sash and she now moves to be our Left Hand Man for 2019. Her main role now is to look after the others and show them the ropes! And hopefully make sure the other ladies don't forget anything…!
Courtnay Grey was sashed as our Chief Marshal 2019. Courtnay had a fantastic first year as Right hand man and is really looking forward to representing Berwick this summer.
We also welcomed our 2019 Right hand man to our principal party – Victoria Irwin although i'm sure she would prefer to be called Vikki! She is sure to have a great summer and will be a chance to learn the ropes in preparation for her turn as Chief Marshal next year.
We also welcomed our new Junior Mascot rider for 2019, Miss Katie Lowden-king.
Katie will support the Principals this summer.
Photos of the Sashing event will be added to the Gallery.