Chief Marshal 2018 – Rebecca Allan
I am so honoured to have been given the role of Chief Marshal 2018.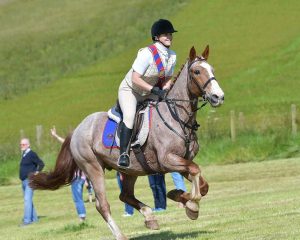 WOW….What a fantastic first year in office I had. I cannot believe how quickly last summer went. Thank you to all the other towns for making me feel so welcome. I have made some great friends and fantastic memories.
I can't wait until Bounds Day, it will be a privilege to carry Berwick's town flag. A huge amount of time and effort goes into making the Riding of the Bounds a success, for this I would like to thank the whole committee, our sponsors, friends and all other supporters. Without you all the Riding of the Bounds would not be a success. Also a big thank you must go to last year's Chief Marshal Bethany Innes and Left Hand man Rachel Martin, you girls supported me all of last year so much and kept me right ( including tying my stock! )
When bounds day comes around I hope to make everyone proud, especially my family and my friends.
I am very lucky to have 2 fantastic girls by my side this summer, Bethany Innes Left Hand and Courtnay Grey Right Hand. We will have a fantastic summer visiting all the other border towns and celebrating their different traditions.
So here's to the Riding of the Bounds 2018! Hip Hip!
Left-Hand Man – Bethany Innes
Well where do I start? I've had an amazing 3 years in office I can't believe I am writing my left hand section already seems like two minutes ago I was standing shaking with nerves awaiting to be announced as Right hand. I never use to believe when people said enjoy every minute as it goes so fast, but it's true you blink and it's over.
It was such an honour to be Chief Marshal for 2017 and lead the cavalcade, it is a memory I shall keep forever. I would like to thank all the other towns for making me feel so welcome I have certainly made friends I will keep forever. I would also like to thank all of my family and friends for supporting me over the three years there is no better feeling then making your family proud. A special thanks has to go to the committee who put so much hard work into making the bounds a fantastic day. A big thank you also has to go to Clare Ford and all the girls at Saint Foin for making sure Bobby was always looking amazing for me at the ride outs, I've enjoyed every ride out knowing I was safe.
Rebecca, I hope you enjoy your big day I wish you the best of luck and I shall be beside you to help whenever needed, just remember to breathe.
Courtnay, good luck with your three years and enjoy it! I am so happy to complete my last year with my best friend at my side.
I look forward to my final summer as a principal and couldn't think of better girls to complete it with! I hope everyone has a fantastic ride!
SAFE OOT SAFE IN!!
Right-Hand Man – Courtnay Grey
First and foremost I would like to thank the Committee for choosing me to be Right hand man 2018. I would also like to thank each and every person that makes The Riding Of The Bounds possible.
It is a huge honour to represent my home town, the committee and of course my family on Bounds Day and the other town ride outs and events with Beth and Rebecca to guide the way. I'm sure I will make some unforgettable memories along the way and some lifelong friends.
I would like to wish my fellow principals the best of luck for 2018. I'm sure we are going to have a fantastic year together.
I hope all riders and spectators have an awesome day on the 5th of May.
Here's to 2018!!
Safe oot, safe in!!
Berwick Mascot 2018 – Kieran Dodds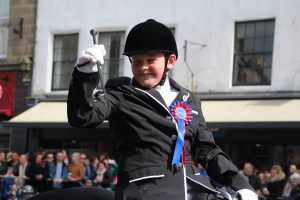 Kieran Dodds – Mascot 2018
I am very excited to be selected as mascot 2018.
I am 14 years old and i have been riding the bounds for 5 years now.
My dream is to carry the flag one day.
I love my hobby to bits as I meet new people and make new friends along the way.
I hope to make some lovely memories that I will not forget .
I hope Rebecca, Courtnay and Beth have a fantastic year.
I can't wait to ride beside them to make town proud.
Safe oot, Safe in!