Chief Marshal – Bethany Innes
It is a huge honour and privilege to be selected as Chief Marshal for 2017.  I can't believe how fast last year has went! What a fantastic year I have had as right hand man, I have made so many memories but most of all I have made friends for life. The hospitality I have received from all the other towns has been amazing and feel it has made my year as right hand the best.
The riding of the bounds has been a massive part of my life for as long as I can remember, I used to watch the cavalcade leave the town with everyone smiling and cheering as they past. I rode my first ever bounds on my favourite stead Murphy with my best friends from beachcomber stables to support me going down the dreaded ditch! Now I have the privilege of carrying the town flag with my family, friends and supporters cheering me on.
I cannot wait for Bounds day- a lot of time and hard work has gone Into this day and for that I would like to thank the whole committee, our friends and sponsors and to our supporters as without you there would be no Bounds! I would like to take this opportunity to thank last year's Left hand Lorraine Fiddes as without her I would have been lost last year and also thank Clare Ford and the girls at Saint Foin for their support whilst in the saddle. I hope to make everyone proud, especially my mum as she has supported me so much not only last year but all of my life in everything I have chosen to do.
I am looking forward to this summer with my fellow principals Rachel Martin in her final year as left hand and also Rebecca Allan as my new right hand , I can't wait to visit all the different towns and celebrate their traditions too.
So here is to the Riding of the Bounds 2017! SAFE OOT, SAFE IN!
Left-Hand Man – Rachel Martin
I can't believe this is my last year in office, it has all gone far too fast. I thoroughly enjoyed last summer and it was a time that will never be forgotten. Leading the bounds last year was even better than I had imagined, I still feel very humbled to have had this fantastic opportunity. I would like to make a special thanks to Shaun Eltringham for the excessive hard work he put in last year and I'm sure he will again this year. I owe a great thank you to the whole committee and the people of Berwick itself, the ride was a great success and we are hoping for an even greater one this year! I hugely appreciate the support from my family, I know they are very proud of me and I'm not sure there's a better feeling than that. I also must thank Kimmerston riding centre for supplying the most fantastic horses for me throughout the summer, it definitely topped of a great season having such lovely horses to ride!
I wish Bethany the best of luck this year and I know she will do a fantastic job, she's a credit to the town and I cannot wait to share this with her. I would also like to congratulate Rebecca on her position as right hand man. Rebecca is another great friend of mine and it's going to be a fantastic summer spent with these two girls. I couldn't ask for better people to spend my final year with.
Although this is my last year in office I look forward to supporting this ride for many years and would love to see it grow and strive in the future. It's a fantastic tradition in which I hope future principles get out of it as much as I have.
Thank you all once again, here's to a fantastic 2017!
Right-Hand Man – Rececca Allan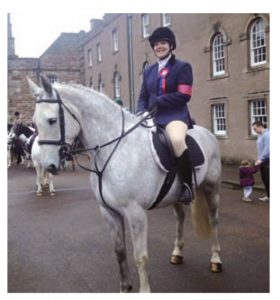 First and foremost I would like to thank The Committee for voting for me as right hand man for 2017 it is a privilege to have been chosen by you. I am looking forward to Representing Berwick on Bounds day and at all of the other Border Town ride outs and events. I would like to thank The Berwick Riders Association Committee, The Land owners, The Freeman, sponsors & Friends and all other supporters of The Bounds, as without you it would not be possible, I hope to make you all proud. Here's to the start of 3 Fantastic years representing Berwick, I am looking forwarding to meeting all of the others towns principals and making some unforgettable memories along the way.
Hope you all have a fantastic Ride!! Hip Hip!!!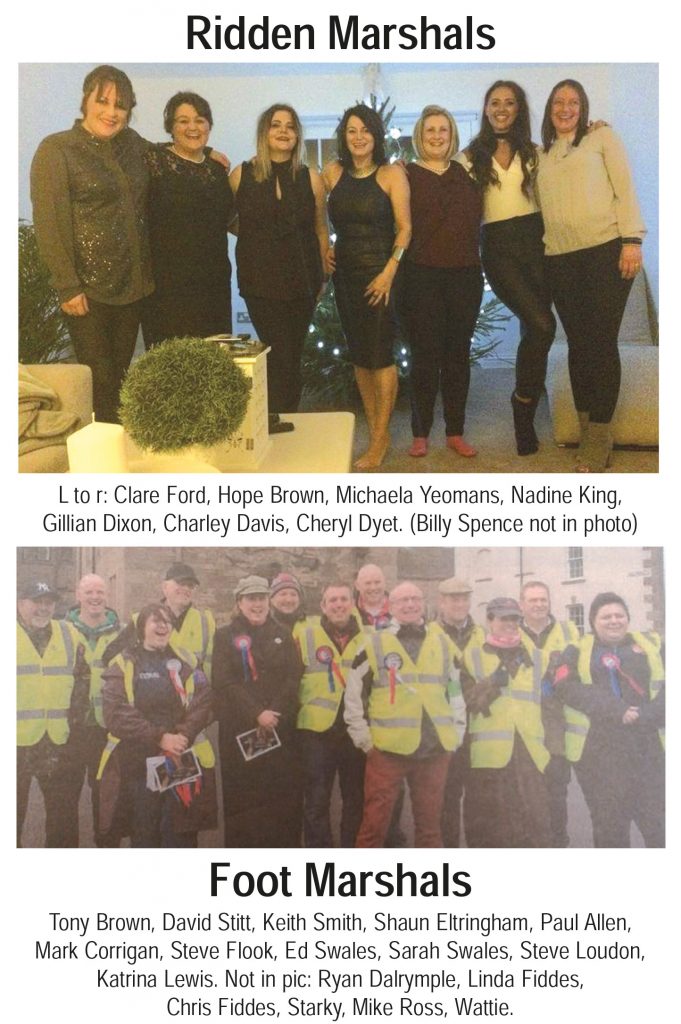 Also Lorraine Stark not in photo.