Linda Fiddes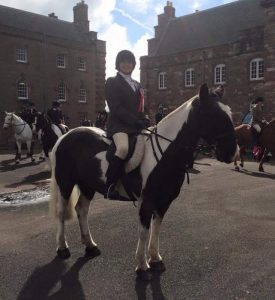 Welcome again to the annual Riding of the Bounds.
This historic event is organised by the Berwick Riders Association, a small group of dedicated volunteers who work tirelessly throughout the year to raise funds and to promote our amazing town throughout the borders and raise awareness of the event within Berwick. On behalf of the committee, I hope that you enjoy it and have a fantastic day out.
I would like to wish our 2022 Chief Marshal Julia a fantastic year in her post, enjoy every moment and trust me, you blink and it's over! You will be a true ambassador for Berwick and do us and your family proud, wear your sash and rosette with pride!
I would like also to wish Courtnay all the best in her final year and know she will guide and support both Julia and Kieran at every opportunity during her left-hand year. Courtnay, you have made an outstanding contribution to promoting Berwick and in neighbouring towns, You have stayed on as a principal during these hard times, this is year 5 for you as a principal and for that we thank you.
We also welcome Kieran as right-hand principal. You are just beginning your journey, enjoy it, this three-year post is one you will never forget; you will make forever friendships and create memories you will always treasure.
This event as you can imagine takes a lot of planning and funding and it would not be possible without the continued support of the committee, friends, sponsors, local businesses, Landowners, and individuals. I would like to thank every single person who has contributed towards the day.
The committee wish to also extend their gratitude to the following for their assistance: the people of Berwick, the Freemans Guild, The Freemen Trustees, our town mayor Mr Bowlas, Berwick Town Councillors, Northumberland County Council, The Chamber of Trade, Simpsons Malt, Madeleine Knight, Michael Herriot, Andrew Ainslie, Berwick Pipe Band, Rapid Reaction, Air Ambulance, RAF, and Northumbrian Fire Brigade and to everyone of our supporters.
I would also like to extend our gratitude to our ride and road marshals who give up their own time to ensure a safe day for all, thank you guys for your continued support.
On behalf of the committee, I would like to wish every rider taking part Safe Oot, Safe In.
Chairman
Berwick Riders Association